Well, technically they're not in foxholes, but that could just be because they're bad-ass muthas who don't need to hunker down when the shooting starts. This was posted to the AANR picture board by Army Specialist Dustin Chalker, thanks go out to him for the picture.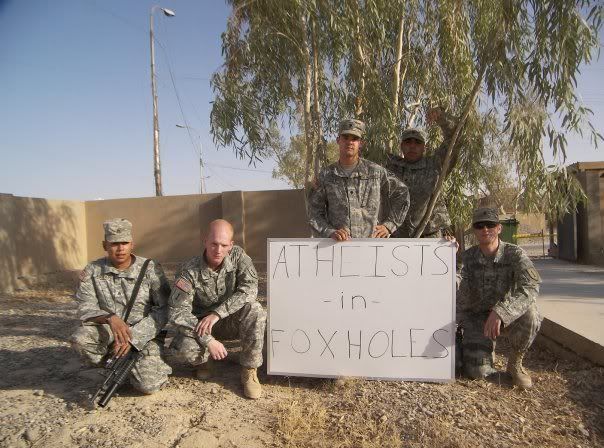 From left to right: SGT Mike Aguilar, SPC Christopher Carr, SPC Jeremy Hall, SPC Tony Hernandez, and SPC Dustin Chalker.
The soldier in the middle, Jeremy Hall, is currently suing the Department of Defense for violating his right to religious freedom. The story can be found
here
, and has been blogged about by my partner in crime Dane Andrade
over at Second Enlightenment
.
One unfortunate consequence of this is that, according to SPC Chalker, SPC Hall has been receiving death threats, ostensibly from some of his fellow soldiers, and has been assigned a bodyguard because of it (the person behind the camera, accord to SPC Chalker). I guess the theistic asshats making the threats never understood the concept of "brothers in arms," because this sure isn't any way to treat a fellow soldier, regardless of what religion he follows (or doesn't as the case may be).